Boss Hammer Co.
Regular price
$499.99 NZD
Regular price
$519.99 NZD
Sale price
$499.99 NZD
Unit price
per
Sale
Sold out
Boss Hammer Company provides a limited one year warranty from date of purchase against workmanship and manufacturer defects.
Usual normal wear and tear or miss-use/abuse is NOT covered under warranty.
Boss hammer is designed for driving and pulling unhardened common nails only.
Any sign of demolition, concrete work, side pulling, prying, etc., will not be covered.

The BOSS Pro Series Titanium Hammer was built to be the best performing hammer in its class. Available in 14 oz and 16 oz head weight options, the powerful Pro Series Titanium Hammer drives like a 28oz steel hammer and conquers construction, concrete, framing, and anything else you throw it at. This lightweight titanium hammer is fitted with an over-molded no-slip rubber grip, BOSS Signature Squaring system laser engraved into the handle, magnetic nail starter and dual side nail pullers that extract any nail with ease. The BOSS Pro Series Titanium Hammer swings light, strikes hard and feels better than any hammer you have ever swung. If you are looking for the best quality titanium hammer, go with the Boss Pro Series, you will not be disappointed. Includes warranty. Proudly Made in USA.
Weight
   14 oz model - 1 lb 10 oz
   16 oz model - 1 lb 12 oz
Length
  14 oz model - 14.5 inch out-to-out length
  16 oz model - 16 inch out-to-out length
Features
Ti64 CONSTRUCTION GRADE TITANIUM
BLACK CERAKOTE FINISH
SMOOTH OR MILLED FACE
HEX HEAD
Designed for improved contact in toe-nail applications
MAGNETIC NAIL STARTER
Easily start any type of nail and avoid smashing fingers.
DUAL SIDE NAIL PULLERS
Efficiently extract nails and save your claw with offset dual nail pullers.
T-SQUARE HEAD
Align the shoulder of the hammer to mark a quick 90 degrees.
BOSS SIGNATURE SQUARING SYSTEM
Includes common cuts and degree markings typical of a framing square. Quickly mark cuts by simply pivoting the hammer from the claw of the hammer.
*We guarantee "Same Line" as a typical rafter/framing square.*
45 DEGREE HANDLE SHOULDER
Quickly mark 45 degrees by simply aligning the ledge of the grip and marking along the frame of the hammer for a perfect 45-degree angle.
NO-SLIP GRIP
Comfortable over-molded rubber grip absorbs impact shock for all-day use.
INTEGRATED SOCKET
13mm / half inch socket integrated in the bottom of the handle for changing saw blades and other common tools
Share
View full details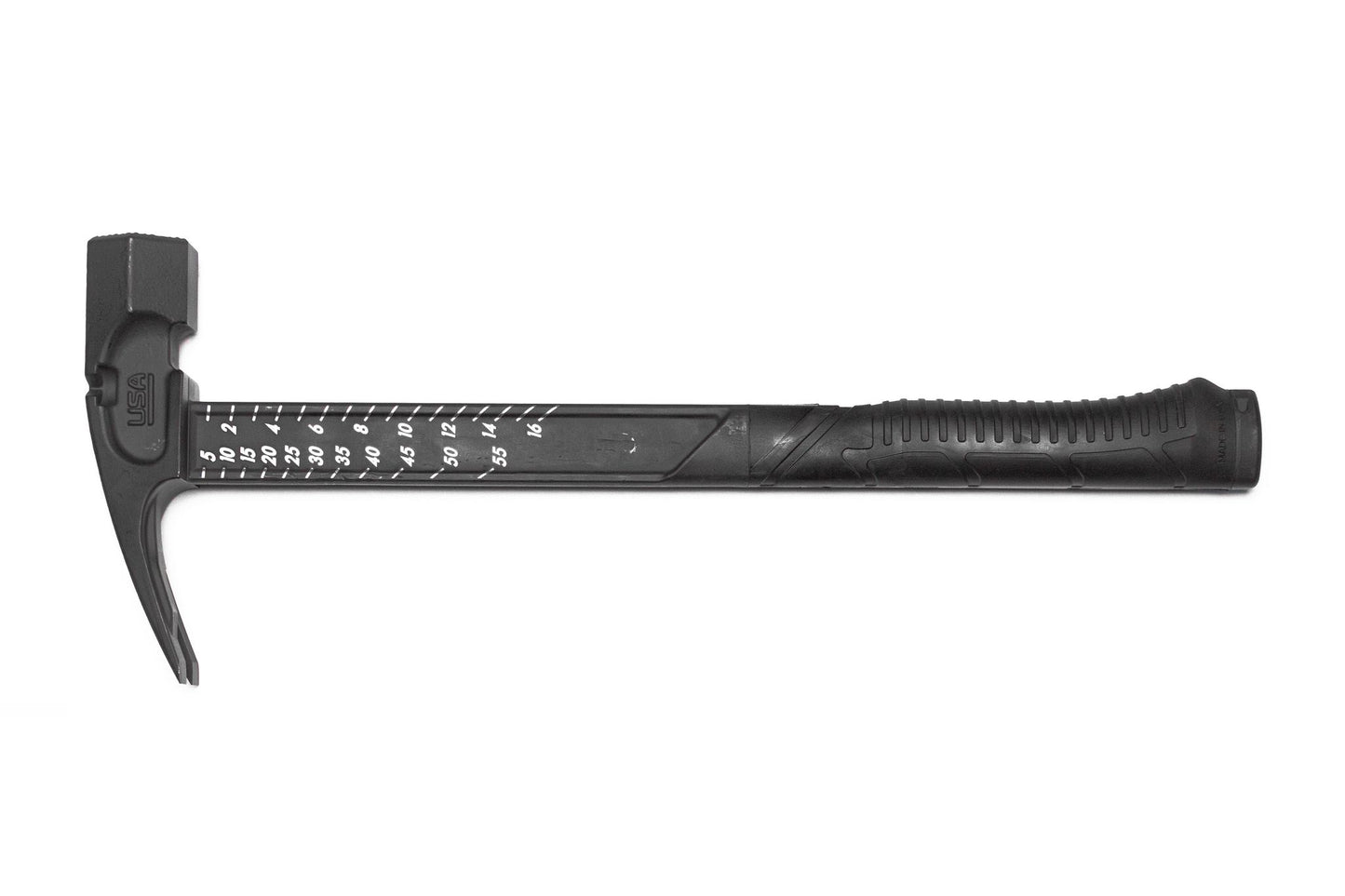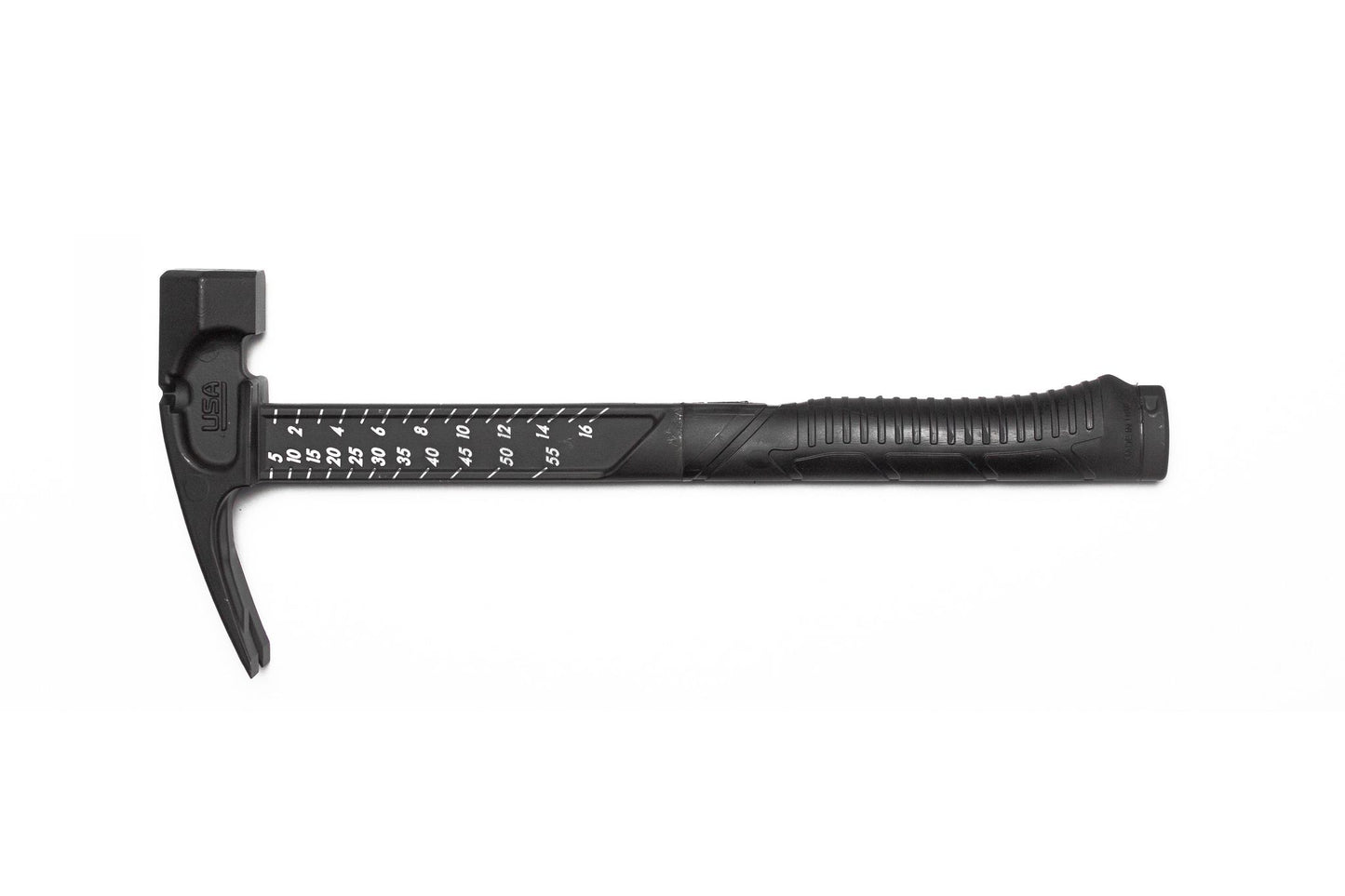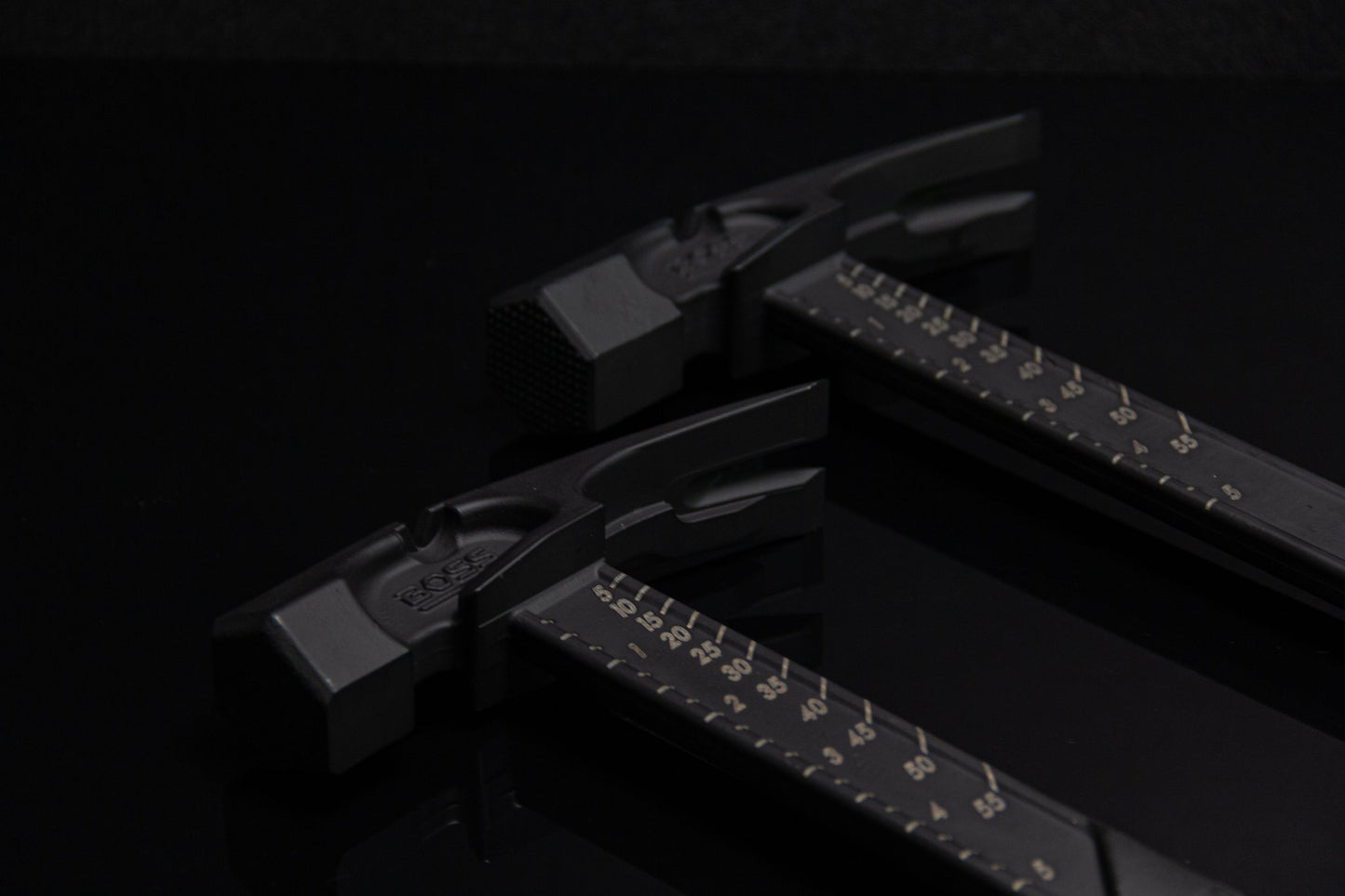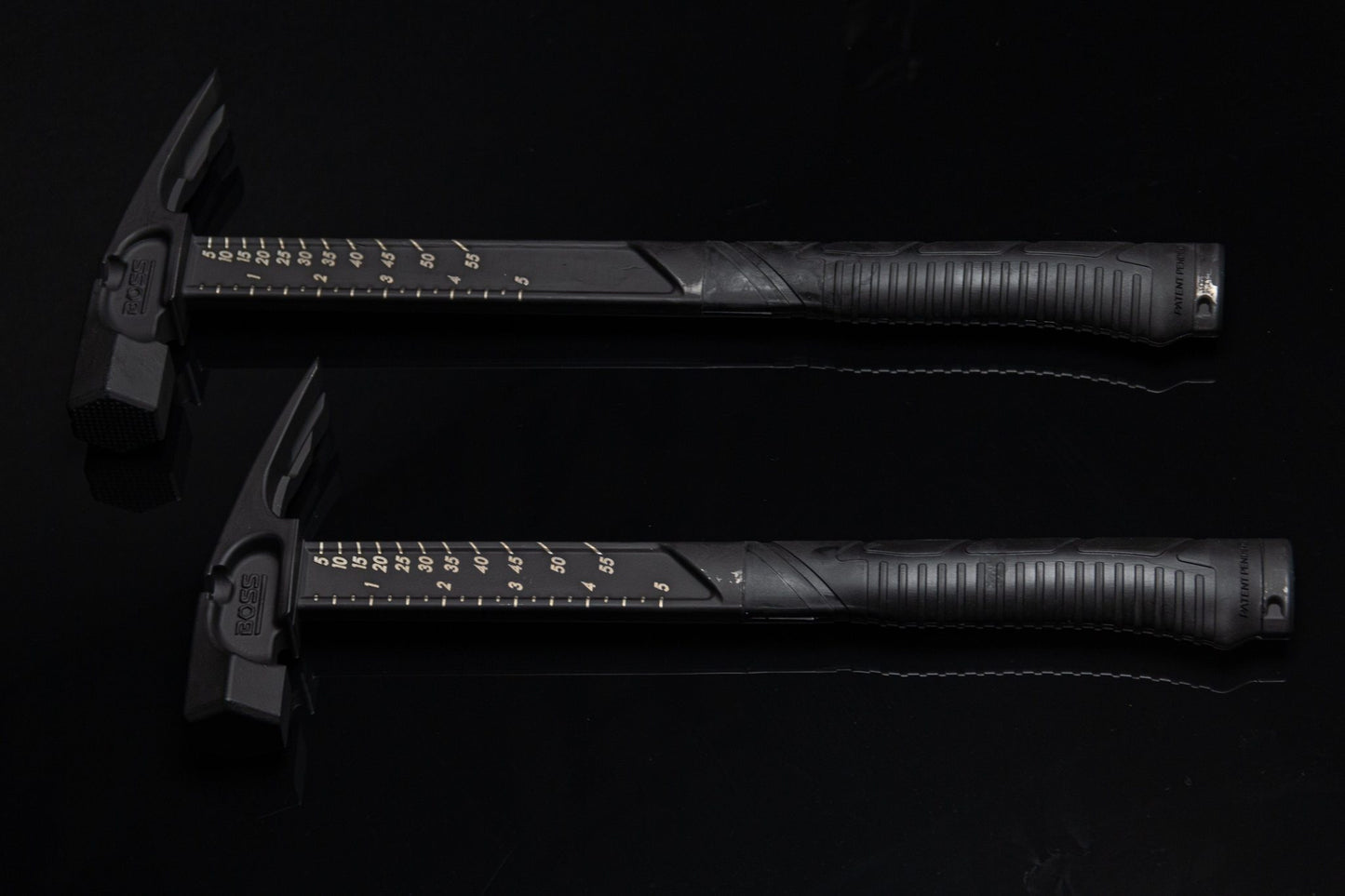 Well balanced hammer
Bought this to finally replace my 20oz estwing. Been looking into ti hammers for a while, as trying to lighten my every day Carry. Settled on the 14oz boss pro, as I don't need the extra length of the 16. It is slightly longer than the estwing, which is good, but not as long as a dedicated framing hammer. Very much an all purpose size.
The overall weight is not very much lighter than my old estwing on the scales, but the balance is much much better. Feels very light in the hand. And sort of a muted impact feel when striking.
The rubber grip is very grippy. Time will tell how long it lasts, but it feels really nice.
The side nail pullers aren't that great, but the claw does a good job. Anything harder I pull the nail bar out.
The hexagon shale seemed a bit gimmicky at first, but when you toe nail it's awesome, you can really drive in more consistent, and have found i miss less now I've got my eye in with where the protrusion of the hammer is.
The only "issue" I had, is that it's a bit snaggy in my diamondback Denali hammer sleeve, as the the grippy rubber bulges out at the bottom, to help prevent your hand slipping off the end I presume. This was fixed by just winding some electrical tape around the largest part of the bulge, the last 10mm or so, and it now slides in effort less.
I will say that I probly will never use the square functions, as it's just not habitual for me to grab my hammer for that. So the markings being in inches doesn't matter too much to me. A good price for an all ti hammer if you wanna Dip your toes.